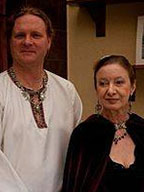 Janet Farrar and
Gavin Bone -Janet will be joining us from Ireland, where she and Gavin Bone live. She has published "some of the most influential books on modern Witchcraft to date." According to George Knowles, "some seventy five percent of Wiccans both in the Republic and Northern Ireland can trace their roots back to the Farrar's.
Farrar has been one of the most public faces of Wicca, having appeared as a model for book covers and illustrations in several of the best-read books on the subject. She is a frequent guest lecturer on the subjects of Wicca, Neopaganism and witchcraft in North America and Europe.
Gavin Bone with Janet and Stewart, co-authored; The Healing Craft and The Pagan Path. Janet and Gavin continue to author books, and have given a number of lectures on Wicca in the United States, Australia, New Zealand, South Africa, Italy and in Britain. Their current area of work is in trance-prophesy, trance-possession and ecstatic ritual and they are currently working on a major book on the subject. Together Janet and Gavin are the founders of The Alliance of Progressive Covens, which includes linked groups and covens in the United States, Ireland and Italy.

Sex, Death and the Mysteries A Multi-Media Exploration-
*note this workshop is (1 1/2 Hours)
A power-point presentation by Janet and Gavin exploring the links between sex and death in the occult mysteries. This ranges from looking at the ancient world; such a their importance in oracular practice, through to the modern occult revival; the Ordo Templi Orientis and Wicca, and contemporary religious practises such as Tantra, through to the psychological theories of Freud and Jung. Because of the nature of the subject material, which include imagery and content of both a disturbing and sexual nature this is an +18 only event.

Magical Energy Primer Workshop -
*note this workshop is (1 1/2 hrs)
An experiential primer workshop exploring the use of energy in ritual and magic. For several years Janet and Gavin have been creating a system for teaching how ritual is related to energy, and how 'the magical car' works. This is a workshop on ritual mechanics and how understanding energy can enhance your practise. This workshop includes Understanding how the Chakras and the Auras work in ritual and magic, creating 'Sacred Space' (i.e circle casting), raising magical energy; the Cone of Power, understanding 'Consecration' as being at the root of all magical practise and Magical Energy and how its behaviour creates the Magical Laws.

The Underworld Descent Technique –
Connecting with Divinity in Drawing Down and Trance-Prophesy
This is a practical workshop demonstrating the use of this technique Janet and Gavin developed to teach Wiccan Drawing Down the Moon (DDM), as well as other trance-prophesy techniques. In this workshop Janet and Gavin will take the participants down to 'bridge' and 'the gates' to find their personal deity, Underworld Guide (Psychopomp) or deity. They also demonstrate how it can be combined with other techniques to make DDM more effective as a trance-prophesy technique.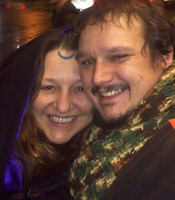 Belladonna Laveau and Dusty Dionne
Archpriestess Belladonna Lavuau is the dean of Aquarian Tabernacle Church Sponsored College,WiccanSeminary.EDU. Bella's book,Awakening Spirit, is used by our US Military to help chaplains minister to Wiccan Troops, and is part of the Freshman core curriculum in the Seminary. A Navy Veteran, Mother of three, and Spiritual Counselor; Bella is a 10 year veteran of full-time Wiccan ministry. Her current passion is to create a benefits package for Wiccan Clergy to help provide the resources for groups and leaders to be successful in their ministry.
Dusty Dionne is the High Summoner and High Priest of the Aquarian Tabenacle Church. He is also a 3rd Degree Priest in the WISE British Tradition, the author of "My Name is Cernunnos", dean of marketing for Woolston-Steen Seminary. Dusty is also the husband and working partner of Belladonna Laveau.
Morning devotional
Meet for morning prayers. Hear the Charge of the Goddess, state the intent of the day and then share random gratitude's. A positive attitude is a choice and when we start the day reminding ourselves of all the bounty which is in our lives, we are able to step forward into a space of love and joy.

Ritual Construction:
Invocation as a form of worship. - The Gods of Eleusis are invoked into Priests and Priestesses, so the Gods can speak directly to you. Being touched by Deity in this way is life changing for all who experience it. Drawing Down the Moon, Invocation, and Trance Prophecy are ritual techniques allow Deity to enter your body and speak through you. This workshop covers how to invoke successfully, why to invoke, and how to know that you have invoked. Past LIfe Regression - this is a valid form of healing which can help you understand what causes overreactions, unrealistic fears, and unrelated drama in you life. Come explore your personal file in the Akashic Records, and meet yourself as an immortal being. Leave knowing how to continue this work on your own, and how to create deep healing in your life. Bring something to lie down on.

Practical Shape Shifting:
Learn how we, each and every one of us, is a shapeshifter. Once you understand how you already shift in daily life, it is easy to become exactly what you need to be in order to thrive in every environment. There are many meditations and vision quests designed to connect you to your power guides. and allow you the power to transcend into their form. This class will be different in that you will not be meditating, but learning how to control the fact, you already embody that which you envision every second of every day. You will learn how to expand that knowledge to encompass current and future needs.

Ancestors Seance:
Time to talk to the ancestors. Do you have loved ones who have passed? do you have questions left unanswered? Are you simply curious? Come and join us in the evening to cross the veil and speak to the dead. Invite your loved ones to speak to us in Sacred Space. This is a psychically intense ritual and last only 1 hour for the health of the mediums.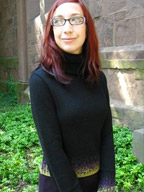 Kiki Dombrowski - has lived in Nashville for eight years, where she has been a successful tarot card reader, life coach, and workshop facilitator. Prior to her time in Tennessee, Kiki lived in Connecticut, Paris, and Nottingham, where she was an English and creative writing student. She received her Bachelor's Degree from Southern Connecticut State University and her Master's Degree from Nottingham University. Kiki's written work has been featured in Witch Way Magazine, Green Egg Magazine, Witch Vox, and elephant journal. Her first book, Eight Extraordinary Days' is available now. Her new book A Curious Future: A Handbook of Unusual Divination Systems and Unique Oracular Techniques will be available at PUF.
.
Kiki is active in the metaphysical community of Nashville where she is a well established tarot reader, life coach and workshop teacher. She has been reading tarot for over twenty years, reading tarot for both private clients as well as parties and conventions. She is a certified life coach with Radiant Health Institute, where she has trained as an Intuitive Life Coach, helping clients to gain a deeper spiritual understanding of themselves. Having extensively studied mythology, divination, and Paganism, Kiki has been a teacher at Pagan Unity Festival, Pagan Pride Day Nashville, Goddess and the Moon, Mystical Heart Spiritual Center, and AromaGregory. Her website is: www.kikidombrowski.com.


Superheroes of the Tarot:
In honor of this year's theme this tarot workshop will look at the superheroes in tarot. What are the superpowers of the Hermit? What makes the Magician so dynamic? What gifts does Temperance have? And most importantly, how do these superheroes share their powers with you and the people you read for? This class will dive into the lessons, talents, and superpowers of some of the major figures in tarot and how they can help impart insight and hope into a reading.

Supernatural Tennessee:
Spooky Stories at the Campfire Join Kiki as she shares stories of ghosts, high strangeness, and weird supernatural incidences around Tennessee. Hear about the classics like the Bell Witch and the White Screamer. Discover Get spooked as we share stories about hauntings in Montgomery Bell State Park. Explore locations in Nashville associated with high strangeness, paranormal events, and mysterious happenings. Come prepared to share your own stories as well!

Hands On Divination:
Each year Kiki hosts a hands-on workshop where everyone can work at different stations to practice with different forms of divination. While this gathering is more play-time than listen-time, there is a little explanation about each type of divination there will be on hand to work with. Some forms of divination will include oracle cards, pendulums, tarot cards, lithomancy, tea leaves, runes, dice, and some more unusual ones to try out while at PUF. Please feel free to bring your own divination.
Phoenix Silverstar - Phoenix has a Master of Ministry (Wicca) degree from Woolston-Steen Theological Seminary ( www.wiccanseminary.edu ), with a concentration in Education (i.e. teaching) (2016). She has studied at WSTS since 2011, and have along the way earned an Associate of Ministry degree and a Bachelor of Ministry degree, prior to the Master's degree.
She is a Third Degree High Priestess in a British Traditional Wicca tradition (Gardnerian but not Hard-Gard).
In the mundane world, Phoenix has a Ph.D in Physics from the University of Southern California (USC) in Los Angeles (1985) and also a Master's degree in Electrical Engineering from there (1986).
Hindu Myth:
You know some of the names - Brahma. Vishnu. Rama. Krishna. Shiva. Ganesh. Parvati. Durga. Kali, and more. Others may be new to you - Indra. Surya. Agni, and more. Now is your chance not only to learn more about these deities, but also to get close to them and form a relationship. This workshop covers the major ancient Vedic deities, as well as the major modern Hindu gods and goddesses, and their stories. This is a workshop on the Hindu Pantheon and Mythology. It is not a class on the Hindu religious concepts and way of living.

The Moon is Mysterious:
Why is She connected with Water? Why is the Moon not always a She? Why do we feel so drawn to Her? How does she influence us, apart from astrology? The Sun is bold and strong. What about how the Sun influences us, apart from astrology? The Moon is a Goddess or a God in religions throughout history and across the planet and so is the Sun. This workshop will explore some of the major Moon and Sun deities in mythology from around the world, and delve into their symbolism, their similarities and their differences. We will learn how the Moon and the Sun were worshiped and is some cases still are worshiped. Each participant will receive a Moon worship outline to take home.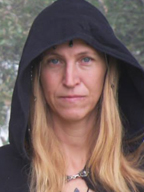 Willo' Wellspring - Is the HPS of a Welsh Family Tradition and Traditional coven. She has been in the craft for over 30 years. Willo' embraced the Craft in 1984, was initially trained in Celtic Eclectic, Gardnerian, and Alexandrian Wicca. Willo' also has a deep understanding of crystals and stones and utilizes them in a variety of ways. She is a Reiki Master, a Traditional third degree, a Spiritual Counselor and an accomplished teacher. She facilitates classes for seekers and degreed individuals. She is a Green Witch whose love of everything outdoors, has led to her understanding of the usage of indigenous plants for medicinal purposes. Her knowledge of medicinal usages of plants has helped individuals devise natural remedies based on known properties for personal use. Based in Howell County Missouri she is the inspiration and driving force of the sustainable community in which she lives. She has created labyrinths, gardens, and groves re-introducing medicinal and indigenous plants on the retreat center property. She is an artist and illustrator of children's books as well as the creator one-of-a-kind crochet products and jewelry, utilizing her unique understanding of stones and crystals.
She teaches workshops and classes on many topics year round. For more information on Willo' go to http://witerayvn.org
Bardic Herbs of the Northern Hemisphere:
Have you thought about how the Bards had such clarity of mind and beautiful singing voices?
Do you know that all over the Northern Hemisphere Bards and other storytellers have used herbs to enhance their own abilities to see, feel, and sing?
This workshop will explore the herbs that were and are used by Bards and others to improve their abilities. The resources that have been used are a fascinating collection of documents going back to the 10th century.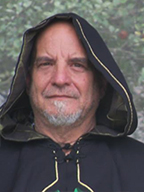 Alfred Willowhawk - Alfred Willowhawk, DMsc, DD is a 20-year veteran of spiritual counseling, coaching, and training. He is ordained as a metaphysical minister by the University of Metaphysics with a Doctorate of Metaphysical Science a traditionally trained 3rd-degree high priest and one of the co-founders of Wite Rayvn Metaphysical Church. He is a kabbalist who has spent time at the Kabbalah Center in New York where he studied the Lurianic kabbalistic system for 5 years. He is currently enrolled at Grand Canyon University pursuing his Graduate level certificate in Psychology, with a concentration in Life Coaching, expected completion date July 2018. His passion is to facilitate people to manifest their highest potential. He has also a Reiki Master and creator of the healing system Celtic Transformational Healing. His work with men and women to embrace the Warrior of Spirit within has assisted many people over the last 10 years. He is an MKP brother and has facilitated the initiation of men and women into the Warrior of Spirit.

Alfred is the author of Warriors of the Millennium, Shadow Relationships and How to Avoid Them, Manifesting True Desires: Learning from Arianrhod and the Tree of Life, I AM Healer, Storyteller, and Warrior Priest: Learning From Arianrhod, Creating Guided Meditations for Yourself and Others, and Hawk Sightings.
For more information on Alfred go to http://warrioriwithinrelease.com, http://alfredwillowhawk.us or http://witeryavn.org
I Am In Control:
Creating and maintaining balance in the 21st century can be difficult. Debts, job prospects, relationship issues all can distract us from following our own paths. The environment, family, friends, co-workers all seek to influence our decisions. You are truly in control of your own life. This workshop shares techniques to control the chaos all around you and within you to create good decisions for your own life.

Tree of Life in Wicca:
The Kabbalistic Pri Etz Chaim (Tree of Life) can be utilized within a Wiccan and Pagan lifestyle to assist in self-healing and healing of your relationships. This workshop gives you an understanding of how the Pri Etz Chaim is in you and can be tapped to assist you with all of your energetic healing modalities.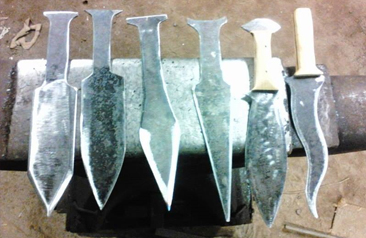 Wolf's Moon Forge
is a small blacksmith shop located on the edge of South Mountain state park. They were with us last year and were so popular we invited them back.
Make your own Athame
This workshop will have participants making their own athame by using basic tools and steel. Those attending will​ learn to shape steel by hand and how to make and fit handles. Safety equipment will be provided. Those under 18 may notparticipate without a consenting adult. A fee of $30 will be asked to cover the cost of materials and tools.

If you wish to take this class please send an email to
paganunityfest@gmail.com
You must let us know so you can be added to the list. Once on the list you will be able to go to merchant row when you arrive on site and sign up for a time slot with the blacksmithy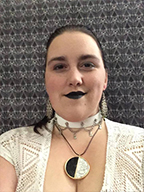 December Fields-Bryant - is the badass witch and writer behind StartWitchin.com. A practicing witch since 1999, she had had the pleasure of getting her hands dirty in various magickal subjects and traditions. In the last few years she's developed from professional tarot reader at events from Appalachia to Alaska and is now a speaker, teacher, and writer. Currently her magickal obsession lies in psycho-spiritual personal development using practical magick and modern witchcraft.
Embracing the Witch Archetype:
Before we can call ourselves witches with confidence, we must first know, understand, and embrace what a Witch is. The Witch role has taken on many descriptions and stories over the years that have made the term infamous. Witch has become an archetype - a recurrent symbol inherited from our ancestors and presented in our collective consciousness. Sadly, even those of us who take on this title and role carry the baggage of fear around it, inherited from our history and culture, causing us to shy away from parts of Witch and, in doing so, parts of ourselves. By embracing this archetype, we embrace some of the strongest parts of ourselves and our magic

Manifesting Money Magick:
Despite the taboo around the discussion of money within many spiritual communities, spells and rituals to obtain wealth are one of the most sought after (second only to love). Practical money magick is not difficult itself, rather, the mentality behind it is where most witches have problems. With each spell, we bring our own baggage of limiting beliefs that, if not handled, can sabotage our work. By combining witchcraft with manifestation and mindset work, prosperity can be achieved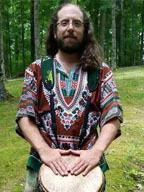 Eric Olson -Everyone has rhythm, but not everyone knows how to fully explore these abilities or even where to begin. I am here to help. My name is Eric Olson, Rhythm Healer. I have been around rhythm my entire life, both as a professional musician who recorded several albums, and as a certified energy worker. I know how to work with people by tapping into that innate rhythm and weaving it into something else entirely. The voice of the drum is where it all begins. By combining my Reiki knowledge with my lifelong knowledge of drumming, I am here to help you with healing, expanding your consciousness, and co-creating a joyful experience. Although I play many types of drums, my specialties are the West African djembe. I am also an intuitive card reader and build custom drums. Just ask my happy clients! Are you ready
Rhythm Healing:
What happens when you hit a drum? When you play a single beat, the vibration of sound washes outward like ripples in a pond. But the waves aren't linear as they would be on the surface of the water. Instead, the vibrations create a perfect sphere encasing the drum, the player, and the world immediately surrounding them. As the waves of vibration from that one beat pass through you, your heart beats in response. But it's only one beat. Your cells, already vibrating with energy, respond to the call of the drum. But it's only one beat.
Rhythm Healer Eric Olson's classes will take you on a journey of discovery. You will learn how the drum connects you to energies that can heal and transform. You will learn very simple rhythmic patterns that are designed to target specific chakra points. You will also learn how to tap into specific energies and create rhythmic patterns. But most of all, you will have fun!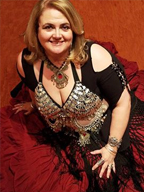 Mary Olsen - Has been dancing for 8 years and training in a variety of styles from belly dance: American/Cabaret, American Tribal Style (ATS), Gypsy Caravan, and Tribal Fusion - to hip-hop, modern dance and West African. She has developed and taught her own workshops: Dance With Your Inner Goddess. DWIG classes are focused on using dance movements to connect with your body, mind and spirit, methodologies from Tribal Grooves, a dance exercise format in which she is certified, as well as other dancers and the world around us.
Inanna Chakra Dance
This dance combines basic movements of tribal dance from around the world with energy work and is designed to honor your inner goddess through dance. Using these movement combinations along with energy work, you will energize your soul, open and align your chakras and engage your personal power.
Join us for a journey through the Chakras. We'll open with a meditation following Inanna's journey to release negative energy and barriers. We'll then focus on combinations of movements to encourage energy flow throughout your body and dance through the 7 main chakras. The workshop is open to everyone. Wear loose comfortable clothing – yoga pants, shorts, skirts, etc. Be prepared to laugh, sweat and move your hips!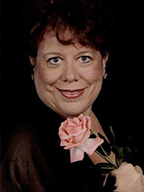 Rita Finley - is a Druid Priest and Elder of the Way. She was educated, trained and mentored by F. David Springer and Mari Cartee. Rita is the author of Fr. David's Memorial service, Mission coordinator for Isis Invictus Military Mission, helped form the Pagan group at Ft. Campbell, KY, leader of the Holly Grove, and a reiki master.
Past Life Regression in a Group Setting:
Join Rita and explore where you have been and who you have been.

Reiki Gratitude Ceremony:
An exchange of Reiki energy and expressing our gratitude for all that we have been given.

Aromatherapy for Superheroes:
How to develop your own aromatherapy, safely, for every day use.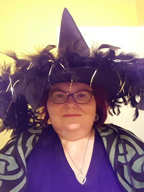 Rev. Mary Hawk - has been a practicing Wiccan for 19 year. She is a legally ordained First Degree Priestess of the Correllian Nativist Tradition of Wicca. She has been studying Numerology for over 15 years. She is part of the Sanctuary of Light Prison Ministry and serves as Co-Coordinator for Nashville Pagan Pride Day. She lives in Gallatin, TN with her husband, three cats, and two dogs.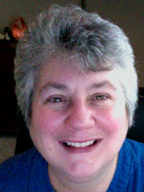 Lucia Jameson - Lucy has been a practicing Wiccan for over 24 years. A transplant from Dayton, Ohio, while up in Yankeeland Lucy was a co-founder of the Dayton Area Pagan Network and the Dayton Pagan Alliance. She was also co-founder, priestess and elder of Temple of the Tree of Life Coven. A former Air Force officer specializing in Transportation and Logistics, she takes the skills she learned there to help make Nashville Pagan Pride Day a successful annual event. She is co-Local Coordinator for Nashville Pagan Pride Day
The Wheel of the Year:
We have all learned the Wheel of the Year with its emphasis on the climate of Northern Europe. But we don't always get snow at Yule or gentle breezes at Ostara. Sometimes Autumn doesn't come until after Samhain. We will be looking at ways to adapt the Wheel to our own climate and terrain.

Redneck Manifestation Ritual:
Hosted by Moon Willow Coven - The League of Extraordinary Red-Headed Witches is proud to present the Redneck Manifestation Ritual! Come join us as we raise energy with the Sacred Redneck Manifestation Chant. We will conduct the ritual in true Redneck style because ritual can be fun and effective at the same time. Y'all come on over now, ya hear?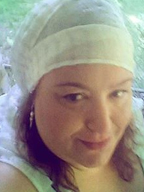 Tara O'Donniley (Mama T) - A Southern Hoodoo practitioner with a background in the OTO, Santeria and Vodou. Owner of Front Porch Conjure, selling her handmade spiritual supplies and a spiritual advisor. She has a Bachelor's Degree in Psychology and Africana Studies with a Certification in Non Profit Organizations and has been published in The Spellery Magazine and The Elephant Journal. She has been teaching Hoodoo and Herbology classes for over a year at Draconis Arcanum. She is well versed in divination as a bone and tarot card reader. In her spare time, she likes to garden, volunteer, craft and spend time with family and friends.

Throwing the Bones - Bone Divination (2-hour class)
An in depth class where you will learn the history of bone readings, how to read the bones and the bone meanings. This will be a very hand on class. If you already have a set, please feel free to bring them. Bone sets will be provided and on sale if needed.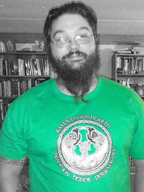 Michael Wilson - is a Tennessee native who practices Germanic Polytheism. He is a founding member and Gothi of Raven Moon Hearth, a Heathen tribe in the Greater Nashville Area. In the past he has taught workshops at PUF and various events and festivals.
Hel Blót Ritual:
Hel Blót is a ritual designed to honor the Norse Goddess of the Underworld, Hel. We will hold a fire lit procession to the sacred area, followed by the rite dedicated to Hel, during which offerings will be made.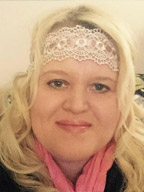 Kari Haggerty - Kari Wagner has been part of the pagan community for 10 years. She came into her Wiccan path when she first moved to Nashville and hasn't looked back since. Eclecticly Wiccan she pulls from all paths as the need comes. Whether she is singing, acting, playing with clay or living day to day she pulls from her own personal truths on how to live life and treat people and the world around her.
Poly Clay Craft
Come enjoy some poly clay fun and get super crafty! Come out and learn how to work with clay in a fun and easy way. We will be making pens that look like Wands or be creative and make your own design. Come out play with your inner child. Limited to 15 people $3 supply fee.

Fairy Houses for the Kids
Come have some crafty fairy fun in The Sun. We are gonna make fairy houses for your house fairies to play in. Get creative with poly clay and paint and decorate your fairy houses as you please! Join me in learning the basics of working with poly clay. 15 people limit $3 supply charge.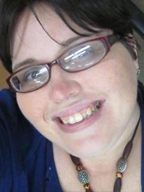 Tabitha 'Rayne' Overbay - has been a practicing Wiccan for five years and has been studying mythology for twenty-one years. She has an Associate's Degree in Arts and she is an aspiring writer. She has a love and a vast knowledge of comic books and mythological representations in comics as well as other forms of modern media.
From Ancient Legends to Modern Heroes:
Honoring this year's theme this class will discuss the development of our legends and myths into modern day tales of superheroes and villains. Legends from multiple cultures will be represented, as well as a discussion on the changing representations and views of witches, seers and more in modern day pop culture and it's effects on the pagan community.

Dreaming for the Better:
Learn how to make braided dream bracelets while you hear the story of Morpheus (The Dream God) and the importance of dreams. *Additional 3 dollar charge for supplies.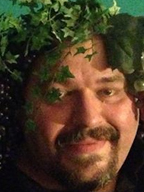 Greg Strong - Greg Strong has been pagan since he was 16 years old when he first found a copy of Buckland's Big Blue Book in a used book store. Since then he's studied many different paths, but he is currently studying heathenism with Raven Moon Hearth, where he is on the Council of Elders as the Scribe.
Intro to the Havamal:
We'll be going over this seminal text, discussing some of the various translations, as well as trying to unearth and understand some of the buried treasures that lie within. This 800 year old text is a look back into the minds of the Norse peoples. It gives some basic awareness of the relationships between the Norsemen, their families, friends and surroundings.

The Ullr Games:
We all know the standard Viking Games; hammer and spear throw, hatchets, caber toss, etc. Come join us as we learn and play some of the lost games that the Norse would have played. Games like Slappcapp and Tornerspel.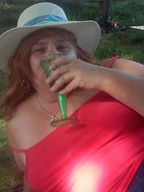 Daphne Redd - Daphne Redd or Amber is a long time member of the pagan community since the 1990's. She is a Wayest Druid practitioner and a Spiritualist. She has taught many classes in the pagan community and is often called upon to discuss various topics she studies in religions and myths as an amateur theologian. She holds a Masters' Degree in Counseling and Psychology. She has presented classes in Divination, The Great Procession, Wheel of the Seasons, Reiki, and Pagan Theology. Other classes she has taught have been about relationships Daphne is a Reiki Master Teacher; a Bard, Alchemist, & Brehon in the Congregation of the Oaks & Holy Grove. Her current path goal is becoming Master Alchemist of the Way and Druid of the Way.
Making Divination work for You:
Everyone can use divination to assists them in their spiritual practices. This class will introduce the student to a variety of Divination Tools and techniques with a small discussion on each method. You will see there are many ways to start your growth and start your ability to use divination in your practice. There will also be demonstrated various tools that will help a person learn about each tool so they can get to work right away using divination in their workings. Divination is not difficult, like anything else in your life, it takes finding a method, and practicing that method. Student will gain an appreciation of the various forms of divination, how to make tools, and tips on how to start using each method for their present and future spiritual practices and growth. There will be 8 to 10 methods and tools of divination used in this class and will be approximately

Everyday Pagan and Spirituality:
We are magical people. Our lives should be made in the same way. Too often we over look that minor adaptations in our life can make our lives more magical and more spiritual. In this class we will explore many ways to transform your house, your day, your cooking to make paganism a part of your life and also if you need to, keep it hidden in plain sight from your non-pagan friends and family. Class will explore home and personal things that one can do to enhance your everyday religious and spiritual life.

The Hidden Wheel of Time:
This Class focuses on the Great Procession of the Stars. Attendees will learn about the Great Cycle or Procession and understand what it is. Also the class will explore the coincident of how it could have influenced the practices of religion and deities through the ages. Attendees will come to understand that mythology through many cultures actually have in place common motifs, symbols and numbers that actually do calculate and mention the Great Procession of the stars. So get ready to sing out…It is the Dawning of the Age of Aquarius, as it was more than a song.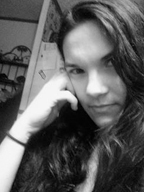 Rowan FaeFire - is a 2nd-degree traditional priestess who teaches dedicant and 1st degrees for her traditional coven. She was born into the craft and has pursued her personal spirituality for over 15 years. She began official training in her traditional coven at 18 and became a 2nd-degree priestess at the age of 24. She is also a co-host for The Warrior Within Show on WCAS-DB each Friday night where she offers her unique perspective on relationships, life, the universe and anything. She is a budding author, as well as a Reiki Master and has expertise and professional credentials in other healing modalities. She has spent over 5 years researching and perfecting her usage of the nine-chakra system and sound to create and maintain a balanced and authentic life.
21st Century Relationships No Fear:
We live today in a society of fear. Fear of rape, fear of attack, fear of drugs, fear of failure, fear of not being accepted, the list can go on and on and on. Part of it we grew up with, all of it was learned from outside influences and our own experience. As a society, we have chosen to integrate this fear into ourselves to a point where it is eroding the very foundation of the way we live. Which, in turn, allows for more fear to come about. Thus the cycle continues on and on. What if we learned to break that cycle on a societal and personal level? This workshop uses the 9 chakra system to help you to lose your fears and turn them into strengths for healthier and balanced relationships.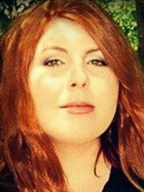 J Durenda Medway started as a student of witchcraft at age fifteen and has been practicing witchcraft and rootwork since age nineteen. She graduated from the Lucky Mojo Correspondence Course and works as a Reiki Master, witch, and rootworker for Life Spirits Society of Magic, a professional spell-casting coven with thousands of clients from all over the world. She presented working with Santa Muerte during the Daisy L. Machado lecture at Vanderbilt University and is researching witchcraft and rootwork while a master's candidate.
Sigils:
Sigils are often symbols that represent a desired outcome and spirits a practitioner petitions for a specific purpose. I will start with a history of sigils and their many uses in spellwork. Then, I will show examples of sigils from the Keys of Solomon, The Black Pullet, and used in African Traditional Religions. Participants will learn which existing sigils can be used for different purposes such as love, money, or health and how they can create their own. The class will culminate with students drawing their own created sigils on candles that I provide.

Santa Muerte:
Santa Muerte is a folk saint of death who is venerated in mostly Mexico and the Southwestern United States. I will start the class with an introduction to Santa Muerte and a brief history of La Huesuda. I will then cover the symbolism and parts of Santa Muerte, the meanings of her different colors, signs of being called to work with her, what offerings to make to her and when, constructing a Santa Muerte altar, protection before invoking, how to work with her (including oils, powders, and baths to use), and Santa Muerte prayers and spells.